Test
ROLL-ON POOL PLASTER
Sider-Proof FF-PR Roll-On Pool Plaster! –A cement-based, swimming pool plaster and resurfacing coating for plaster, concrete and ICF swimming pools. It is packaged as a kit and easy-to-apply with a standard paint roller and smoothed with a MagicTrowel.  It is suitable for residential, commercial, hot-tubs, chlorine and salt water system application.  This coating is also designed to coat and waterproof water-falls, fountains & concrete ponds. This product is NOT a pool paint but a true cement-based swimming pool plaster and resurfacing coating.  'Roll It On and Blade It Smooth!'

| | |
| --- | --- |
| | Pool & Spa News' Top 50 Products for 2009, 2011 & 2012! |
| | Most Valuable Product 2008 |
Sider-Repair – Afiber-reinforced repair mortar formulated to repair cracks, spot-etching and 'pop-outs' in concrete surfaces and existing pool plaster.  Strong and durable, Sider-Repair can be applied in a single layer up to 1″ (~ 25.4 mm) and is recommended to repair concrete and plaster surfaces prior to the application of Sider-Proof FF-PR.
Sider-Screed –  A high-resistance troweled cement-based mortar used for surfacing delaminating, rough or spalling concrete horizontal surfaces.  Applicable from 1/8″ to + 3″ in one coat.
Sider-Resin M50  – A superior bonding agent and primer for Sider-Repair & Sider-Screed with exceptional adherence properties, allowing maximum stabilization and serves as the perfect bonding medium.
Sider-Pool Tile Grout – A polymer-modified, water-resistant tile grout used to fill in joints between tiles and is designed to create a perfect bond and provide lasting durability and beauty in swimming pool and water environment applications. Sider-Pool Tile Grout is an integrally colored, sanded grout used with the installation of ceramic, terracotta, mosaic, and concrete tiles.
Sider-Thin Set Mortar – A superior, polymer modified, tile-setting thin-set mortar mix for use in tile for ceramic, terracotta, mosaic, concrete, granite, marble, stone tiles, creating a superior bond for floor and wall applications without slippage.
Sider-Rough Kote – a cement-based/polymer modified primer-coat to create a superior mechanical bond for pool plaster over existing plaster.  Sider-Rough Kote has been formulated to be applied directly over most masonry and existing plaster surfaces prior to the application of Sider-Pool.
Sider-Pool – A cement & marble-based, troweled-on pool plaster for concrete/gunite swimming pools. It will render a beautiful smooth finish with No Brushing and No Check-Cracking.  Packaged completely pre-blended, Sider-Pool only requires the addition of water at the jobsite.
DECK COATINGS
Sider-Deck/Sider-Sealer – This decorative textured deck coating system is cement-based & easy-to-apply over your new or existing concrete deck, certain existing pool-deck coatings and concrete pebble/rock decking surfaces.  Packaged as a kit and available in different premixed colors, it is ready to accept Sider-Sealer – our solid colored, skid-resistant sealer.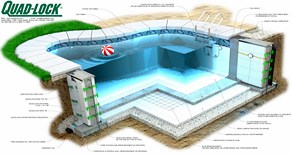 ICF Swimming Pools – Plaster System – A cement-based, polymer modified, waterproofing cement plaster system for ICF (Insulated Concrete Form) swimming pools comprised of a flexible ICF mesh reinforced base-coat and a Roll-On Cement Plaster finish.


We Ship Our Products Worldwide

 Made in the USA.